Zimbabwe Council of Churches (ZCC) Orients United Theological College on Humanitarian Work
The Zimbabwe Council of Churches (ZCC) on the 15th of September 2023 oriented the United Theological College (UTC) students on humanitarian work. The orientation was held at ZCC in Harare, Zimbabwe. The UTC is a theological college that trains pastors and other church leaders. The orientation was aimed at equipping students with the knowledge and skills to integrate theology and development work. The students were taught about the different types of humanitarian work, the principles of humanitarian work, and the challenges of humanitarian work. During the presentations ZCC shared their work on humanitarian interventions in Zimbabwe which includes providing food, protection, water sanitation and hygiene (WASH), health, agriculture, livelihoods and resilience support to vulnerable members of community, and the support rendered to member churches to improve agriculture production and delivery of health and education services. The ZCC's orientation will help UTC students to make a positive contribution to the humanitarian work in Zimbabwe.
The ZCC General Secretary Rev Dimingu giving theological reflections.
A glimpse of the market store during the orientation.
Group photo after the orientation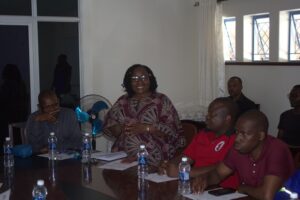 Director for Huanitarian Services and Diakonia Ms Maria T. Dendere sharing the humanitarian  background and works under ZCC.